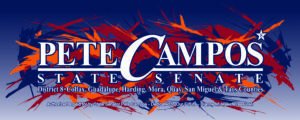 I invite you to visit my website.
I have always encouraged empowering and involving people in shaping our future. Our collective success depends on the understanding of our diverse state and the treasures it holds. To achieve this, I live by the following, "the more we learn and share with each other, the better we all become."
I believe, "together, we will continue to build our educational and health care systems and improve our state and regional economy."
This website highlights the basics of my philosophy, credentials, and contributions to the people of New Mexico and the counties of San Miguel, Guadalupe, Colfax, Mora, Harding, Taos and Quay.
I will continue to devote the most energy, experience, and intellect possible to deliver the best results for the people of Senate District 8 and "our" historically rich state, New Mexico.I remain grateful for the opportunity to serve as your State Senator.
Siempre,
Pete Campos